Transitioning While Brown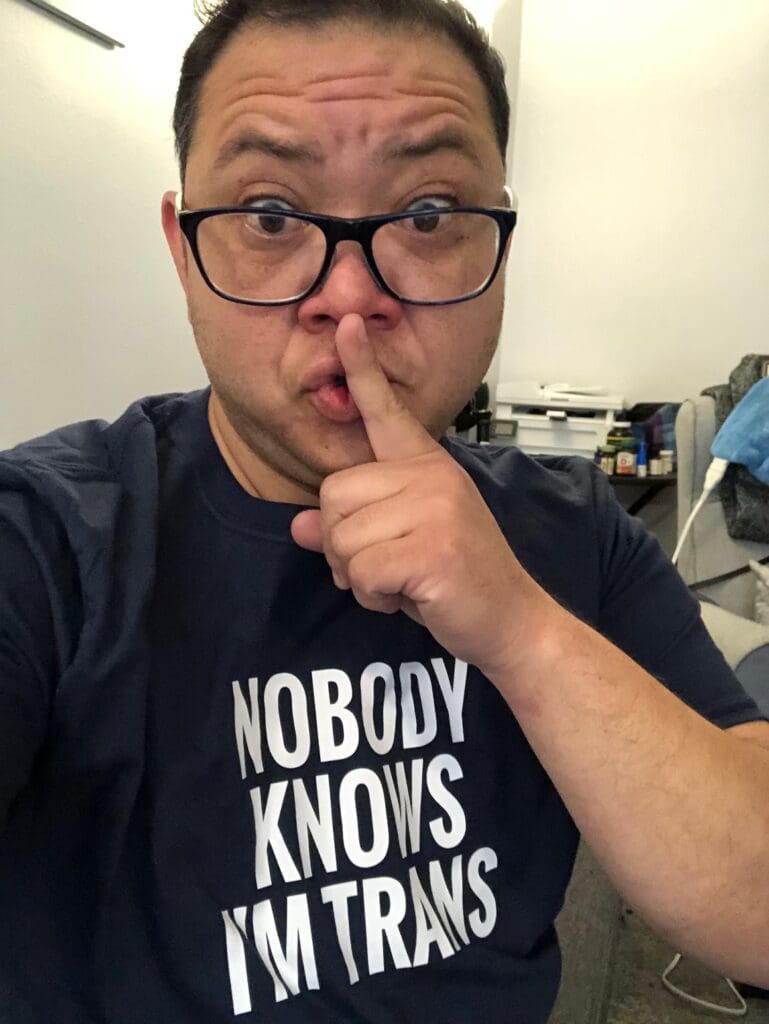 By Frankie Sapp (He/Him/
His)

Pride month is upon us, but I haven't felt like celebrating. In fact, I begin this post with a great heaviness in my heart. The world has been in chaos this year, but the truth is, many of us have been crying in pain for so long. Many of us are experiencing what we in marginalized communities have experienced most of our lives. Between the violent murders of Black people, the disproportionately greater impact of the COVID-19 pandemic on disenfranchised groups, and the Overdose Crisis needlessly killing people across the country, I can't keep track of my grief. It is also important to note that I write this piece not as the Program Director of the Pride Center, but as a person; a fellow human, a queer and disabled trans person with my own identities, complexities, and vast lived experiences
When most people hear someone is trans, they think of the typical mainstream narrative: I was a girl/boy trapped in the wrong body. My story may have started out that way but that's far from how it unfolds. As I became entrenched in social justice work, I became aware of male privilege and identity in ways that motivated and shaped my identity as an anti-racist, feminist, and anti-oppression activist. Suddenly, my desire to be male was questioned. Was this for me? What would it mean to be a man in Western society? What's more, what would it mean to be a brown man in California?
The latter question became most relevant when I moved to Santa Barbara to attend UCSB. While I was finding a new language to describe my gender identity and had cut my hair short for the first time, I was pulled over 8 times in a 2-month period by different police officers. Each time, I was asked for my car to be unlawfully searched. Having lived there for 8 years, I could count more easily the number of times I wasn't followed by a staff person in a retail store. As a multi-racial, Filipinx person, I believe this was because I was passing as a Latinx male. So while I was mentally and emotionally tortured by the pain of living in my body I was also questioning whether I wanted to live in fear of police? Or, worse, being wrongfully arrested and thrown into jail where, as a trans person, the fear of sexual assault was real and horrifying? At that time, I decided the answer was no.`
At that point, I'd reached a happy compromise with my body. I had the privilege of getting the surgeries I desired and felt peaceful in my own skin. For the first time, I experienced joy – gender euphoria. But, years later, while in Toronto, Ontario, Canada, I was forced to make a decision. After experiencing multiple verbal and physical threats for using a public washroom, my physical safety became compromised. Turned out, I needed to pass to piss. I could no longer live "in between". I went on hormones and now pass as cis-male with great ease. Admittedly, my life is much simpler now. No one questions "what" I am. Today, I find my body physically more relaxed. I literally stand taller.
During this pandemic, the complications of my gender and race came head to head once again. Having recently relocated back to the states, I needed to go into my bank and set up new accounts. As I prepared to walk in, I put a non-surgical mask on. I put a mask on my brown face walking into a bank. Normally, I would have been filled with fear doing this as a brown man, but this time I wasn't afraid because I was shielded by my walker. No one expects someone disabled to be a criminal, but I can't imagine the level of fear I would have felt without my walker, let alone if I were Black.
Each and every one of us hold so many identities, but no matter how much we can control how we identify; we can't always control how we are seen. Identities and perception are not always equal; they
do not always match. I have strong Filipinx cultural roots, yet I am mostly seen as Latinx. I firmly identify as trans but chose to manipulate the gender binary to pass as a cis male for my own safety. Again, identities and perception are not always equal, in fact, I argue they rarely are.
The world is complex. The world is more complex than my heart will ever be able to comprehend. I try so hard to listen, learn, fight, and change. Sometimes I rise to the many challenges I face, but sometimes I fail. I do know I at least always try. Right now, it feels like the world is broken and it's painful to experience. I've not been able to stop myself from crying from our shared wounds. In some ways, I think the world needs to break in order to heal, yet I'm filled with rage and sadness that so many lives have to be lost before we achieve its rebirth. For now, know that I am here, as a person. I am hurting, but I am listening. I am trying. I am fighting and I always will.
To contact Frankie, email him at Francisco.Sapp@Sanmateopride.org